The homepage title and description are the first things that both search engines and users see when your website appears in search results. They serve as a brief summary of your website's content and purpose.
Boosting Visibility
A well-crafted title and description can make your website stand out in search results, increasing the likelihood that users will click on your link. This can lead to higher traffic, more engagement, and ultimately, more conversions.
Improving Search Engine Ranking
Search engines use your homepage title and description to understand what your website is about. If these elements are relevant and contain the right keywords, search engines are more likely to rank your website higher in search results for those keywords.
Enhancing User Experience
The title and description also play a crucial role in user experience. They give users a quick overview of your website, helping them decide whether it's worth their time. A clear and compelling title and description can significantly improve user satisfaction and engagement.
Despite their importance, setting your homepage title and description is a relatively simple process. Here's a step-by-step guide:
Identify Your Keywords: The first step is to identify the keywords that are most relevant to your website. These should be words or phrases that your target audience is likely to use when searching for the products, services, or information that you offer.
Craft Your Title: Your title should be concise, clear, and include your most important keyword. It should also be compelling to encourage users to click on your link. The optimal length for a title is typically around 50-60 characters.
Write Your Description: Your description should provide a brief summary of your website, including your main keywords. It should also be engaging and persuasive to convince users to visit your website. The optimal length for a description is typically around 150-160 characters.
Implement Your Title and Description: Once you've crafted your title and description, you need to add them to your website's HTML code. This process will vary depending on your website's platform, but it's usually quite straightforward.
Here's a hint/tip – use ChatGPT to figure it out for you! When it comes to formulating and distilling your site title and description the power of AI makes it a snap.
Here is an example: As an SEO expert create a title and description for (your website name)
If you're using a WordPress website with Yoast SEO plugin
Log in to your WordPress Dashboard: Enter your username and password to log in to your WordPress site.
Navigate to Pages: From the left-hand menu, select 'Pages' .
Select the Page or Post: Click on the title of the page that shows 'Front Page'.
Scroll Down to the Yoast SEO Meta Box: On the edit screen, scroll down until you see the Yoast SEO meta box.
Enter Your SEO Title: Click on the 'SEO Title' field in the Yoast SEO meta box. Enter your SEO title here. Try to include your main keyword in the title.
Enter Your Meta Description: Click on the 'Meta description' field in the Yoast SEO meta box. Enter your meta description here. Again, try to include your main keyword in the description.
Save Your Changes: Click the 'Update' or 'Publish' button on the right-hand side of the screen to save your changes.
Remember, the SEO title and meta description you enter in the Yoast SEO meta box will only affect the specific page or post you're editing. If you want to set a default title and description for your homepage, you can do this in the 'Search Appearance' section of the Yoast SEO settings.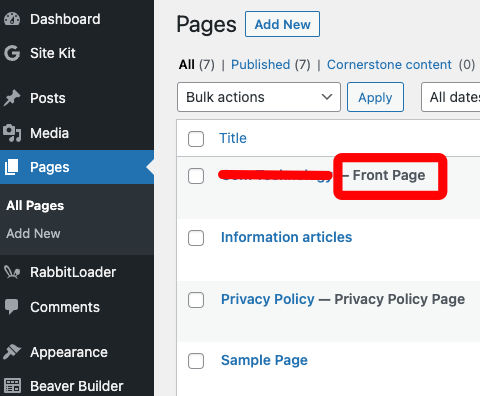 Got a question? Want to know more?